UCGH Durable Medical Equipment
Durable medical equipment (DME) is anything that is non-pharmaceutical in nature yet needed for recovery and maintenance of a medical condition.
UCGH has a medical supply shop located onsite to provide patients with the durable medical equipment needed for recovery or daily living.
The durable medical equipment in stock at UCGH includes:
Walking Aids – such as canes, walkers, crutches, and quad canes
Bathroom Aids – like bedside commodes, bath benches, grab bars, toilet safety rails, and elevated toilet seats
Hospital Beds and Accessories – safety rails, trapeze bars, patient lifts, and hospital beds
Wheelchairs and Accessories – adult and child wheelchairs, chair trays, chair cushions, safety restraints, and footrests
Braces – such as wrist braces, knee braces, ankle braces, arm slings, immobilizers, and lumbar back supports
Respiratory Care – including home oxygen, portable oxygen units, nebulizers, CPAP machines, BiPAP machines, tubing, masks, and PAP supplies
Breast Pump Supplies – including storage supplies, adapters, membranes, and valves
Diabetic Supplies – such as test strips, monitors, meters, lancet devices, and control solution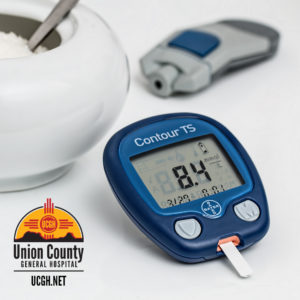 Obtaining the Durable Medical Equipment You Need
UCGH makes it easy for you to obtain the DME you need and also offers delivery and setup of large rental equipment. In addition, we have 24-hour emergency services for oxygen patients.
We accept private pay, Medicare/Medicaid, and most commercial insurances.
To ensure that we provide only the finest DME for our patients, we have developed product agreements with the best DME manufacturers in the nation.
Located in Clayton, New Mexico, Union County General Hospital (UCGH) also proudly serves the communities of Texline and Dalhart, Texas, Boise City, Oklahoma, Des Moines, Raton, and Amistad, NM, and many smaller communities in the region.