Jay Fluhman, FNP-C, ACNP
Jessie "Jay" Fluhman was born and raised in Clayton and graduated from Clayton High School. She attended West Texas A&M University where she earned her Bachelor of Science in Nursing in 1979 and a Master of Science in Family Nurse Practitioner in 2001.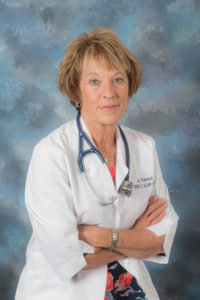 Jay later obtained a Master of Science in Acute Care Nurse Practitioner from the University of New Mexico where she received training to care for acutely ill patients in 2010.
As a Board-Certified Family and Acute Care Nurse Practitioner, Jay is trained to care for the entire family. Her expertise is primary care, which includes common, chronic and acute illnesses in addition to women's health care and pediatric care. She is certified to administer (Department of Transportation (DOT) physicals and has also received training to be a BioTe Medical Certified Practitioner.
A lifelong resident of Union County, Jay lives in Clayton with her husband Larry where they have raised 3 children and enjoy 2 grandchildren.
Call the clinic to make an appointment.
Monday - Friday | 8 am - 12 pm & 1 pm - 5 pm
Located in Clayton, New Mexico, Union County General Hospital (UCGH) also proudly serves the communities of Texline and Dalhart, Texas, Boise City, Oklahoma, Des Moines, Raton, and Amistad, NM, and many smaller communities in the region.